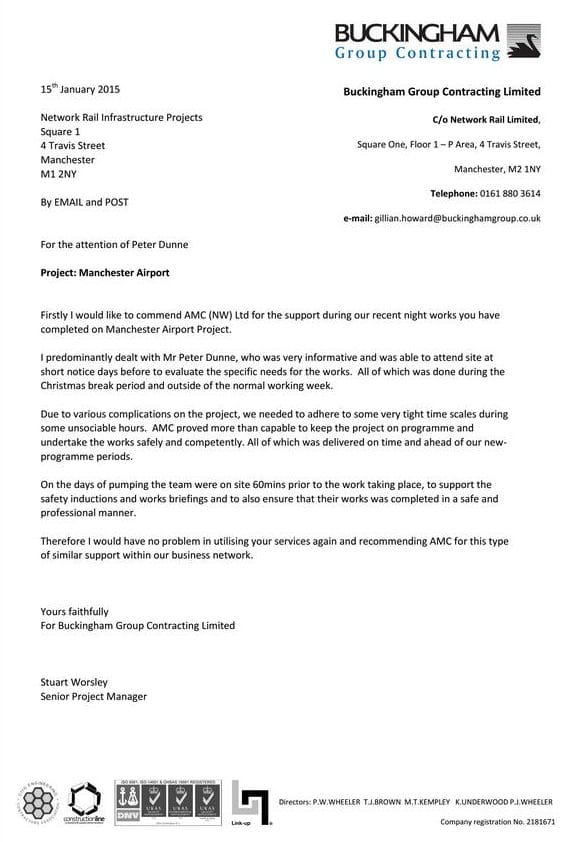 As one of the leading providers of ready mix and volumetric concrete in the North West, AMC take pride in the work we carry out for our customers.
Through our professional approach and focus on quality materials and workmanship, we have been recommended to carry out work for a number of high profile clients. One such recent project saw AMC working closely with Network Rail on location at Manchester Airport.
Project: Manchester Airport
Due to the sensitive nature of the location, it was vital that we were able to attend and fully evaluate the site before commencing any work. The project manager we assigned to the job, Peter Dunne, carried out the analysis over the Christmas period at a time that was above and beyond usual working hours.
AMC's expertise allowed us to complete the work within very strict timeframes, working unusual and irregular hours around the requirements of the airport and its transport networks, and paying very careful attention to the need for a safe and professional working atmosphere.
The Buckingham Group who contracted AMC to carry out the work were certainly pleased with how the company conducted itself throughout the project, leading senior project manager Stuart Worsley to write to us, thanking AMC for our efforts.
For more information about our involvement with the Manchester Airport project, or any of the concrete works we have performed previously, don't hesitate to contact AMC today.